Learn More About demon-tweeks.com

Cars are more than just important to mobility. For some, they are a part of their profession and their way of getting around to the family, friends, and events that they want. Whether it is a traditional car or another mobile unit like a motorcycle, having the right equipment and parts is essential to not only having a vehicle but making it last for years to come. Further, a well-developed and cared for car with all of the best in functioning parts can help to ensure safety on the road or the racetrack. There are many companies that offer parts and fixes for vehicular problems but leave little to quality and care. Demon Tweeks, however, is an amazing business with a history of providing the best in vehicular parts to their customers. Demon Tweeks is a world leader when it comes to outfitting a performance vehicle. They provide an array of parts and equipment that can help to build a strong vehicle that will handle well on the track, making sharp turns and passing with ease. Further, these parts are compatible with several different vehicular models and selections, creating an industry leader when it comes to marketable goods and parts. This array of different products is reasonably priced and offers choice to the consumers because of the longevity in business that this company has.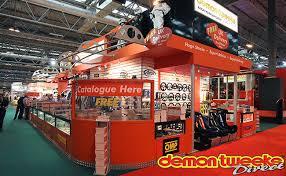 Demon Tweeks has been operating for over forty years, focusing their vehicular parts efforts to those vehicles that need that extra speed on the track. They have focused and targeted their efforts on providing great parts and products to those who love fast cars like motorsport competitors and vehicular tuners and power enthusiasts. The company was founded in 1971 by Alan Minshaw. His goal was to focus on the aforementioned power industry because he himself was a competitive racecar driver. He believed that those in the field needed a location that could give them all of the different products that they needed for an affordable price and all in one location. That is why he created his business and that is what he has delivered upon. Demon Tweeks is successful for a variety of reasons. Of course, there is the passion of its founder and owner that can be felt in every part that is sold. Another reason that the company has succeeded is because of its amazing array of products. The superstore and warehouse that bears the Demon Tweeks name is over one-hundred thousand square feet, filled with numerous different motorsport parts and finishes. Not only does the store offer all of these parts through their store, but they can be ordered online as well. When ordered through this platform, descriptions are clearly given and consumers are able to read about the part before they purchase. If questions arise, however, there are numerous experts in the store and through the online portal that can help to build a great vehicle. The staff has been trained and has knowledge in the field that can guide a buyer toward the right choice for their vehicle. For those that need help achieving their best vehicle and one that will function well in multiple different arenas, the storefront offers service technicians as well. These individuals will actually help to apply the different parts and can get a vehicle functioning well. These experts can lend their help in selecting the right parts for a vehicle, too.