Learn More About deepdiscount.com
When it comes to saving money on movies and videos, many websites promise to deliver rock bottom prices that no one can beat. DeepDiscount, however, is one site that can actually make good this expectation. A United States-Based company founded in 1992, with roots in the Midwestern state of Illinois, DeepDiscount has an amazing ray of Blu-Ray, DVD, and music all for a fraction of the retail price. A wide array of products and a site that exemplifies their belief in making user experience easy, DeepDiscount is a site that is making a huge difference in the way that these items are sold.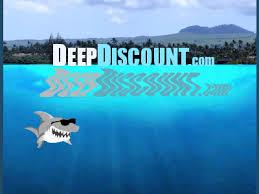 DeepDiscount does more than just list items on their site for individuals to buy. They provide clearly marked sections that make site navigation a breeze. There are, for example, categories for DVD, Blu-Ray, Music and video games. They even have a section solely devoted to vinyl. Though not as extensive as some of the other categories, Deep Discount offers apparel options as well. These can be found, once again, through the sites easy to use navigation portals. One of the greatest features of the DeepDiscount site is how clearly the product prices are marked. There is no need to spend time figuring out the retail price and comparing it to what DeepDiscount is offering. The site clearly displays the original cost and then the listing price on DeepDiscount. That allows the buyer to see exactly what they are saving. Moreover, DeepDiscount calculates the percentage off as well, for those that want to know this markup or markdown prior to clicking on the "buy" button. Featured items, which fetch an even higher percentage in savings, can be found by entering the "Today's Deals" link on the site map. Though the site contains an amazing array of discounted items, it doesn't stop there. There are promotional deals and coupons for DeepDiscount as well. That means that customers are rewarded beyond the singular price of an item or the cost as it is listed. There are additional savings as well. These deals extend to shipping as well, especially around the holidays when DeepDiscount goes above and beyond in saving their customers money. For those that spend twenty-five dollars or more, shipping is absolutely free. That means no worrying about exorbitant add-ons that can jack up the price on a large order. The more you buy, then, the more you are rewarded at DeepDiscount. Visitors can even pre-order their items and wait until they are in stock in order to build a larger order, thus saving monies on shipping, while still getting the greatest prices possible. Though the site's navigation is relatively easy to utilize and the prices are clearly marked, sometimes errors do occur and DeepDiscount recognizes that. That is why they have developed a clear and fair return policy that ensures any error on their end will be correct quickly. For those who accidentally order the same item twice or make a mistake at check out, DeepDiscount will work to correct the error with their tremendous customer service associates who are available during traditional business hours.