Learn More About dayspring.com
Dayspring is a name given in the scriptures to Jesus Christ. Thus, the company named is "Dayspring", founded by the four Christian men - Dean Kerns, Don Leetch, Russ Flint, and Roy Lessin. These men started DaySpring with a common vision, to make Christ known through the printed message.
These messages are thoughts to spread the love and spirit of encouragement and confidence to bring you to the light. God always wanted to make his son live with love, and together with his friends and relatives. God has always shown a lighten path to go ahead and spread his message among the people. Now, it is propagating these messages throughwww.dayspring.com.
With these thoughts the company was started by these four Christian men, to spread his messages with a mediator that can be reaching out to people.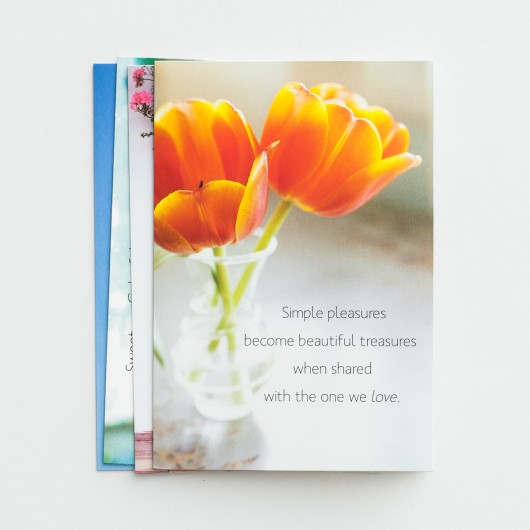 The company designed a first greeting card, that was a Christmas card with a very simple and direct message, the message was…..
"When you get right down to it...
The only thing that really matters is Jesus."
After, this greeting card, the company spreads not only spreads its business rather it started to spread these kinds of messages along with different kind of printed stuff.
Greeting cards are the obvious communication medium, which can say everything, whether you don't have words to say, or to express. So, it offers a wide range of greeting cards with different kind of messages to encourage, smile, and to express emotions. You can also write your views on the same card.
It offers you a huge stuff, which make you able to enlighten the people's life who belongs to you. Whether, they are your friends or relatives. You can shop for any categorized stuff, like illustrated faith, cards, gifts, occasion, and eCard studio.
Illustrated faith has a huge collection of Yes & Amen - Devotional Kit, Genesis Kit, Lists By Faith & Blessings Or Lessons - Devotional Kit Set, Blessings Or Lessons - Devotional Kit, Praise Book, Names Of God - Clear Stamps, Set Of 16, Fly Free - Clear Stamps, Set Of 13, Black Eyed Pea Ink Pad, Date-IT Stamp, Bible Mat, She Blooms Collection Kit, Enamel Heart Stickers, Washi Tape Set, Shanna's Favorite Paint Set And Paint Cards, Niv Beautiful Word Bible, Esv Single Column Journaling Bible, Leather, Journal Edition, Brown Leather, Inspirational Journals & Mug Gift Set.
You always look for a message to convey on different occasions to loved ones, thus, there you are. Pick any cards from a huge selection for different occasions such as Birthday, Anniversary, Wedding, Encouragement, Thank You & Appreciation, Sympathy, Thinking of You, Get Well, Praying for You - Difficult Times, Baby Celebrations, Congratulations, Friendship, Church Occasions & Celebrations, KJV Cards, Personalized Cards, Individual Cards, and Everyday Boxed Cards.
These cards are designed in a way that can express your emotions and encourage you and your relatives. You can write you're your own message to make it more expressive by shop for personalized card. You can also shop some other kind of cards. Giving a card to a friend is not just to congratulate him/ her for a particular occasion, its more than that, to share your happiness, smiles, and convey an emotion to be together forever, to encourage to be optimistic towards life and taken him towards an enlightened path.
You can experience a smile on your dear ones face, when you present a gift him/ her, no matter who is he/ she, your parents, siblings, relatives, friends or your beloved, a small gift gives a big smile and unforgettable moments of life. It also offers some gifts which you can present your loved ones. A gift for different occasion for your heart and soul, makes a cherishing moment, you can gift from a wide collection of Illustrated Faith, Mugs, Teacups & Bottles, Jewelry, Home Décor, Tableware, Wall Décor, Journals and Notebooks, 365 Day Perpetual Calendars, Office & Desktop, Totes, Bags & Accessories, Baby Gifts & Clothing, Gifts for Kids, Crosses, Bibles, Devotionals & Books, KJV Gifts, Willow Tree, Gift Bags, Calendars & Planners, Just for Fun, Stationery, Gift Sets, Party ware, Letterpress Blocks.
You are a social person, so you always witness every celebration around you. You have to give a present or something like that which can put into words, you can might be dealing with a confusion, for what to present and where to purchase, so you can shop according to occasion that can be Birthday, Anniversary, Wedding, Baby Celebrations, Encouragement, Thank You, Sympathy, Thinking of You, Get Well, Praying for You Difficult Times, Retirement, and Church Occasions. Some occasions brings happy moments and some trauma. So, according to occasion you can buy various kinds of cards or gifts to celebrate happiness, and encourage.
You can select cards from its eCard Studio that messages spread messages from the bottom of the heart.
The company forwards the messages which you want to say when you don't have anything to say in words. God's messages are always taking you towards the light and make you stand with pride along with your own people.