Learn More About dailylook.com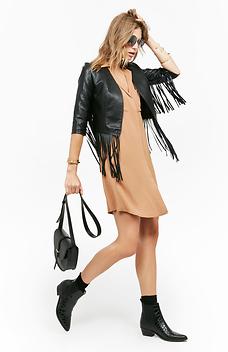 DailyLook is an American Fashion store designed to deliver inspiration and elevate clients' styles by demonstrating to them how to wear the latest fashions. Their focus on getting on-trend looks that are tailored to every customer has seen the store become one of the best within a very short time. To them, every client is unique and selected fashion clothes should be guided by body shape, personal preferences on color, patterns, and latest trends. From inception, their collections keep growing day after day to give clients, even more, options to match new themes. When Dailyook displays clothes on their site, they create the best environment for clients to make fashion statements at work and in social circles. They have dedicated stylists with many years of experience and capable of giving the best suggestions that will keep heads turning wherever you go. Sign up on the site and fill the elite profile with all the required details on height, weight, skin tone, personal likes, and thematic preferences for a perfect dress, pant, jacket, or other clothes of choice. For those who want to shop and enjoy the enthralling experience, visit DailyLook site to shop for The Contemporary, Bohemian Gypset, Most Loved Looks, Work Looks, Plaids & Stripes, or Evening & Cocktails among other designs. Clients can also select cheap categories under $ 80 of clothing such as Legging, Lavering, Tops & Shirts, Swimwear, Active wear, and skirts. Besides, you may also consider selecting clothes based on body type. Whether you are straight, petite, has a Full Bust, Hourglass or have an Apple Appearance, you are sure of getting the best. Other fashion items for sale include shoes, bags, and accessories such as Earrings scarves, belts, sunglasses, necklaces and rings among others.
Want additional support looking for the favorite fashion trends or having trouble navigating the company's website? This should not be the case. The company has one of the best support staff who will address everything with a personal touch and professionalism. Clients can drop them emails with detailed inquiries or initiate live chats on the contact us page of the company's website. For immediate response, clients can also call direct and talk to management representatives. Make sure also to provide the company with personal feedback and suggestions that can also help improve client's experiences and success with their focus on fashion. When new arrivals are announced, DailyLook first notifies its members on the mailing list. This is important because most offers are only available within a very short shopping window. To ensure that these discounts or offers do not go unnoticed, make sure to signup on the mailing list page of the website. Besides, clients and fans can also connect with the company on a fulltime basis via social media. The pages on Facebook, Twitter, Youtube, Google+ and Pinterest, attract a lot of fans seeking more information and sharing experiences. Make sure to signup for full access and contribution on these pages. Personal sense of style, fashion, and selection of the latest trends makes one look outstanding. Make DailyLook the ultimate source of fashion clothes to make every moment ecstatic.