Expiring Crutcheze Coupon . Good luck!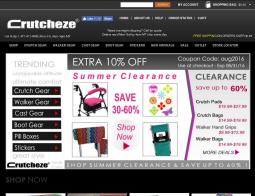 Visit crutcheze.com
Crutcheze Coupon website view
Crutcheze is a brand that was launched in 2003. The brand is owned by American company Zoetic Technologies. The brand manufactures and sells crutch and walker accessories through their online store. Crutcheze was developed to add a touch of style to crutches and walkers which often seem bland and dull. In addition, Crutcheze products are designed to add comfort to the arms and body of the user. The product line includes underarm crutch pads, crutch bags, crutch skins, forearm crutch pads, walker padded hand grips, crutch decal stickers and walker bags. The company also sells cast gear through their site. Crutcheze not only wants its clients to be comfortable while they recover but also to get the best deals in crutch accessories. The business occasionally offers discounts on their products. In addition, customers are offered a 100% satisfaction guarantee. If you're not satisfied with your purchase, Crutcheze accepts returns for refunds or replacement.