Learn More About craftdaily.com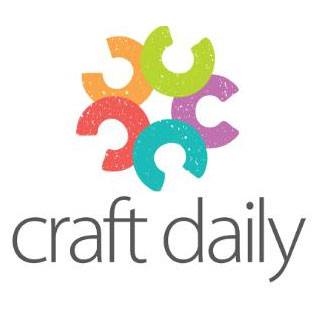 Craft Daily, a division of the F+WA Content+eCommerce company, came into existence in 2013. As the leading provider of craft related videos, instructions and resources for craft lovers, the portal is viewed by hundreds and thousands of craft lovers around the globe. With over seven hundred craft videos on their portal, Craft Daily is ideal for craft enthusiasts who wish to learn about different types of craft work including knitting, quilting, spinning, weaving, beading, crochet, jewelry designing, mixed media and sewing among others. The best part about Craft Daily is that you can watch videos almost anytime, anywhere i.e. they are available 24x7.
The company also does a good job of adding fresh videos every week, which means craft lovers can access new and exciting videos to enhance their knowledge around different areas and styles of crafts. Craft Daily serves as the ideal destination for gathering all sorts of information and knowledge about different kinds of crafts and hence you'll never run out of ideas, designs and inspiration at their online portal. Hence, if you are fond of craft work and the entire idea of creating something new and innovative appeals to you then you'll never get bored of Craft Daily.
The portal teaches you interesting stuff such as designing wire jewelry, bracelet designing, knitting scarves, crochet hats, patch work and book designing. The videos explain everything including techniques, process and other relevant details clearly, allowing you to learn at your own pace. The videos feature highly skilled instructors who explain the entire craft making process in a simple and easy to follow way. In fact, a good number of these skilled instructors have also been featured in leading craft books and magazines like Lapidary Journal Jewelry Artist, Quilting Arts, Cloth Paper Scissors, Spin Off and Wire Jewelry among others. Whether you are looking to refine your existing skills or even if you intend to acquire new craft making skills altogether, Craft Daily has the best videos and tutorials for you.

Those interested in craft making can choose to become a member at Craft Daily by simply paying a sum of 19.99 dollars. This would provide you with access to all their videos, which means you'll enjoy over eight hundred hours of craft making. Craft enthusiasts can also pay a sum of 199.99 dollars for an entire period of twelve months. Additionally, you can also purchase videos on an individual basis and access them anywhere, anytime. With more than thirty years in the business of publishing craft related videos, Craft Daily believes in offering their subscribers and followers with the best quality videos.
In fact, the company also offers its followers a unique opportunity to become an affiliate and earn up to thirty five percent commissions on all their sales. This is an excellent opportunity for individuals who are looking to earn additional money via affiliate marketing. Thus, affiliates can share links to Craft Daily's videos, books, kits, DVDs etc and earn commissions by selling them. The company also provides appropriate resources to aid affiliates in promoting and selling their videos conveniently.