Staff Picks to help you save even more at CPS Solar
Expiring CPS Solar Promo Codes . Good luck!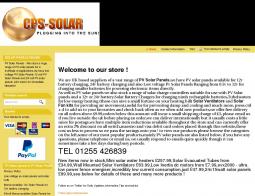 Visit cpssolar.co.uk
Related Categories
CPS Solar website view
CPS Solar is a UK based company. They have a large range of PV Solar Panels. These solar panels are best for 12v and 24v battery charging. They also have low voltage PV solar panels that range from 0.5v-12. These are used to charge small batteries. Such small batteries are often used for powering electronic items. They also have solar charge controllers that are most compatible with tube heaters, solar battery chargers, solar ventilators, 12v and 24v battery, and solar fan kits. These are also useful for preventing cooling. CPS provide free shipping on all the orders that cost above £9.99. For further information and about placing the order, you can call at 01255 426839. The current available stock consists of solar evacuated tubes, ultra-low power fence energiser, mini solar water heaters, wall mounted solar ventilators and low inertia dc motors. You can visit its site for more information regarding payment, price and delivery.