Expiring Country Road Promo Codes . Good luck!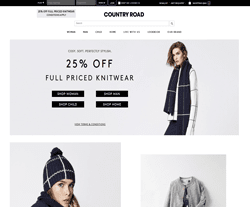 Visit countryroad.com.au
Country Road website view
Country Road Australia is a relaxed, spontaneous style and apparel line. Country Road is passionate about creating simple and beautiful merchandise designed to reflect an authentic Australian way of life. Visit the Country Road Australia website to view their array of clothing, appropriate from work to weekend, and featuring everyday essentials as well as desirable aspirational pieces. Shop from a variety of clothing and accessory options including Dresses, T-Shirts & Tops, Jeans, Shorts, Pants, Skirts, Shirts, Sleepwear, Jackets & Coats, Knitwear, Sweats, Swimwear, Sports Bras & Crop Tops, Tops & Tanks, Jackets, Shorts, Pants & Tights, Accessories, Flats, Heels, Sandals & Thongs, Sneakers, Wedges, Belts, Cosmetic Bags Handbags, Hats & Gloves, Gifts, Scarves, Socks & Tights, Tote Bags, Wallets, Sleepwear and much more. Visitors can find a selection of apparel for women, men, children, as well as a delightful home goods section. Click on their Sale section for the latest markdowns, sale items and clearance.