Learn More About cookiedelivery.com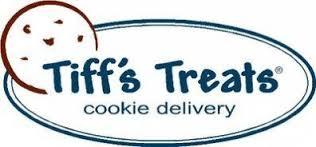 When it comes to cookies, one name is well spread all around Texas, Tiff's Treat. A cookie delivery system started in 1999 by Leon and Tiff, Tiff's Treat originally ran only at night for students in Dallas. Today, Tiff's Treat, with rapidly growing popularity over the years, has opened up 18 stores throughout Austin, Dallas, Ft. Worth, Houston and San Antonio. Offering a wide range of freshly baked cookies and much more, Tiff's Treat now offers an online platform so that you order your favorite delight from home and get it delivered at your doorsteps whenever you want. But online ordering doesn't mean you don't get the fresh cookies. Tiff's Treats asks for an estimated delivery time on the delivery date so that you enjoy only the fresh hand-delivered warm cookies. Even so, if you wish to pick up your treat by yourself, you have the option available whenever you order online. Sign up on Tiff's Treat now and start exploring the mesmerizing menu of cookies and other yummy combos! Can't stop craving for cookies? Stop looking elsewhere and try out Tiff's Treat now! Locate a Tiff's Treat Store near you on the website by simply providing your current city and zip code. The website will automatically redirect you to the nearest store of the most delicious cookie makers in town! Choose what you need, from a mouth-watering menu, and order online simply by signing up. Just provide a suitable time and date to get the fresh, warm cookies and order through simple and convenient payment options online. That's it. Isn't that amazing? Now, the waiting part may be difficult though, but once you get the yummiest cookies and other stuff from Tiff's Treat, all this waiting will prove to be worthy!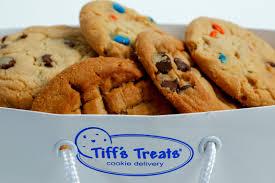 Planning for a perfect gift for guests at your party or wedding? How about something that is loved by everyone, cookies! Tiff's Treat offers Mini-Order Boxes, which you may order in large numbers to save some bucks and give an adorable gift to your guests. Check out the different Mini-Order Boxes on the website and order a lot of them right away! If you want to give a special gift to your loved ones personally, how about some cookies from Tiff's Treat of their choice? Tiff's Treat lets you give Gift Cards which will be delivered directly to your loved ones, so they can order the cookies of their choice on Tiff's Treat! Want to save money on your cookie ordering with Tiff's Treat? How about you keep updated with the latest coupons every time there is a new one? Sign up on Coupon Newsletter to get all the latest coupons and special deals periodically delivered to your email! For the latest news and much more on Tiff's Treats, follow Tiff's Treat on Twitter, Instagram and Pinterest, and hit like on the official page of Tiff's Treat on Facebook. Celebrate your love for cookies by ordering the latest flavors and packs by signing up on Tiff's Treat today!