Learn More About connectify.me

Connectify is a company which creates applications that provides you with so many ways you can use your internet connection. Over time, it has helped millions of its customers to share their Wi-Fi to successfully avail the internet service on all their devices without having to pay extra money. With updated and advanced features, Hotspot stands as the sole virtual router software provides its users a genuine Wi-Fi Repeater and so much more.
Connectify has narrated a very interesting story on their website. They have mentioned how their stay in a hotel drove them to give birth to Connectify on a late night software development marathon in October 2009. The hotel room charged each one of them for using Wi-Fi as well as they charged for all the devices. Their frustration following the incident led them to come up with a software which can get them and so many people rid of this nuisance.
Today the Philadelphia-based Connectify has achieved a benchmark as their software reaches over 75 million downloads by the year 2015. It has become a vital application for people around the globe. Soon after launching the beta version of their software they realized that so many people are sharing their interest of gaining morecontrol over their Wi-Fi networks now. The software soon became known to so many people and many popular technology websites took notice and featured them. They have been declared as the number one networking software on CNET. They have been featured on engadget, Motherboard, Lifehacker, Gizmodo, Mashable and many other technology platforms.
They have now come up with a new service call speedify. Speedify is a big leap in the world of wireless networking for the company. You can use this service to combine your 4g, Wi-Fi and any other kind of internet connection into one strong wireless connection. Connectify team has taken a serious responsibility to improve their services and come up with advanced applications.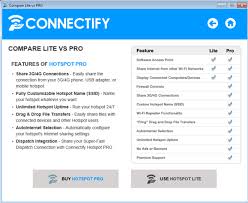 Connectify hotspot is the first and most popular service provided by connectify. It lets you make your PC into a Wi-Fi hotspot which lets you share your internet connection with any other device you want. On their website they have a very helpful video available as well to demonstrate how the service works. Your hotspot is secured automatically when you start using it. You can also, very easily exchange files between devices using Hotspot. Speedify is available for both mobile and desktop. If you run a business and you need a 24/ 7 internet connection for your entire team without having to spend loads of money, you must buy this service. In their online store you can easily buy any of their services at very reasonable rates with easy transaction process without any delays. These products are available 24/7 on their website. From time to time, connectify offer deals where you can get their software and cheaper prices. You can avail these deals if you are a regular visitor of their website or you have subscribed to their social media pages. On their support page, they have detailed answers to all their frequently asked questions.
Connectify also has a blog where they post articles about latest development in their services as well as useful information about making the best out of your hotspot. The blog is very helpful for connectify users around the world because of details information and articles. Connectify users can educate themselves of this software and make the best use of it by reading relevant information.
For more information, visit the Connectify website.www.connectify.me