Learn More About collage.com

Necessity is the mother of all inventions, well this proverb holds very true for Collage .com. It all started when middle school student Kevin Borders wanted to create a unique anniversary collage for his then girlfriend Jen and to his dismay, he didn't found any software available in the internet to help him out, so he sought help of his friend Joe Golden and they laboured hard to create the collage. Encouraged by the creative work, they have managed to pull through, they started a company Collage.com in the year 2012 and are now helping thousands of people to turn their memory into a masterpiece. They are now fully involved in personalisation and customisation of things, and make them into art. Collage .com personalises a very wide range of products like canvases, posters, blankets, photo books, wrapping papers, phone cases, tapestries, pet bowls, cards, calendars, towel, laptop cases, t-shirts, and creates special occasion gifts as well. They are now a team of 30 dedicated employees making custom products available for everyone at an affordable price. Collage.com provides the easiest solution for customisation. Whether the user wants a collage or print of a single image; it is all possible with just a click. With the advent of Collage.com, customisation is fast, easy and fun. It uses insightful but powerful software and provides best-in-class customer service.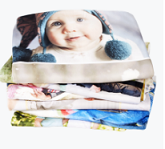 Collage.com believes in serving with the best in quality, best in price and best in finish products to the clients and if it doesn't match your expectations, then they, without any hassle and hidden terms and condition, redo the whole piece to make it perfect for you. If you are looking for adding a touch of personal inspiration and creativity to your home decor, then simply browse through the official website of Collage.com and see the different ways by which few pictures can turn your home elegant, beautiful and inspirational. All the products offered at Collage.com also make up as excellent gifting options. The online portal of the company is as creative and neat as the work done by them. The user can click on the 'shop' tab at the top of the button to see different categories of products which they can get customised further. The two easy steps of first selecting the product and second adding photos for customising the product is all one needs to do to get a personalised item that instantly brings smile on the face. The user can upload photo directly from Facebook or Instagram account or upload from their gallery in computer or phone, no need to visit the store with hard copies of photos. The customisation options provided include the liberty to add photos, add personal text or message, set the background and texture as per their choice. Collage.com stands for quality products at affordable prices and to prove this, they frequently offer amazing deals and discounts on customisation. To know about all deals offered, simply click on the 'star icon or 'deals' tab available at the top bar of the homepage and all the current deals and discounts will be displayed before the user.