Learn More About citysightsny.com
City Sights NY is a company that organizes various sightseeing tours all across New York City. It is a part of Twin America group of companies, one of the premier operations of ground transport, sightseeing services and leisure activities in the city. For more than twenty years they are the leader in the tourist industry in the immediate area, and offer a wide array of various services. City Sights NY specifically is a company that focuses on providing tourists and citizens alike with quality tours in state of the art double decker buses and motor coaches. Their guides are extremely well trained and will help you to learn about New York City, and explore all the interesting areas as well as possible.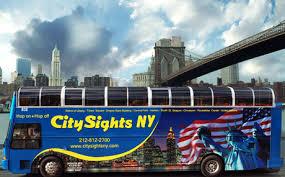 It is possible to book one of many tours City Sights NY has to offer via their website as well as by visiting their offices in the city. If you are a tourist who just arrived to the airport, they have plenty of services which will get you from the airport straight to the city. Door to door share van ride will get you to wherever you need to be quickly and without hassle, and then you can settle in and go right into booking one of their exclusive sightseeing tours around the wonderful New York City. You can book a seat in one of their escorted tours to the more popular sights in the immediate area, places such as Niagara Falls, Washington, Boston, Philadelphia and Amish Country. All vehicles are the pinnacle of modern technology and perfectly maintained too, they operate a fleet of 10-seat vans and 56-seat coaches; all equipped with climate control so you can enjoy the sights in optimal conditions, and cassette players so you can listen to educational lessons by their professional tour guides while you ride around the city. Beside the bus tours you can book a helicopter tour that will take you high to the skies above Manhattan, and let you experience New York City from a rare stand view; you will be absolutely thrilled with the amazing view from high above the skyscrapers of the city. Bike and walking tours are available too, and so are boat tours if you prefer sailing to walking, driving and flying. Packages are designed so they have something for everyone in their offer. If you enjoy detailed tours that let you see every corner and every significant landmark of NYC you can choose the Super New York Tour, and if you want to explore the entire area you can book the Big Four Combo Tour. There's something for people who prefer history too, as well as a tour specifically designed for people who enjoy shopping. Their website is the perfect place for booking tours and browsing through the many services they provide. It gives you the time you need to decide properly before arriving to the city, so you can plan out your activities and make your stay in New York as pleasant as possible. Booking online will save you a significant amount of money too, as they offer numerous discounts on nearly all their packages if you book via their website.