Learn More About caxtonfx.com

Caxton FX is a company from United Kingdom that specializes in foreign exchange, international payments and prepaid card providing. It is based in Portland House in Westminster, London. As a regulated money service business with HM Revenue and Customs it is regulated by the financial Conduct Authority. The entire story of Caxton FX started in 2002, when Rupert Lee-Browne, who had roots in management consultancy and a background in IT and media startup companies, saw an opportunity for a prepaid credit card company that could fill in the demands of the market. Caxton FX mainly deals in three things; foreign exchange deals, online FastPay currency transfer service and various pre-paid currency cards. It also offers the services of market analysis and financial predictions. The way Caxton FX prepaid cards work is highly effective. You need to load the card before or during your trip to another country. That can be easily achievable with a Caxton FX app, by using your online account or a direct phone call to the company. Where you land does not matter as you have access to all the currencies at great exchange rates on your card, you can change them by using the app.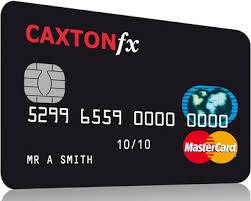 All client funds are held as client money in client designated trust accounts at various European Union institutions. They are safeguarded against a financial crisis, and the company takes great measure to ensure all the accounts are held safely and comply with its regulatory obligations. Caxton FFX gives out unbiased guidance to every client, and ensures that every customer receives excellent value on each transaction. In 2012, Caxton FX was names as the Best Prepaid Currency Card Provider by Moneyfacts. That prestigious award is measured by technical superiority and customer feedback in an independent annual survey. Ever since the company saw the potential for prepaid cards with great foreign exchange rates the customers repaid with trust and loyalty. Now Caxton FX is the ultimate provider of prepaid cards in the region, all due to smart choice of currency options and an excellent fee structure which gave the clients a sense of security and multiple benefits they sought after. Register at Caxton FX and apply for a prepaid card today to be engage in athe most developed system of foreign exchange on the market. You will be able to load the currency to your card at the best rates which the company will provide for you, and then you can transfer the money online or via their app. They will generally offer much better rates of money transfer than you would have if you re operating through various banks, It is especially convenient if you are an expat, moving to another country permanently, organizing a wedding abroad, planning a holiday that will require money transfers or if you are sending money home from abroad. You will save hundreds of pounds on fees and costs in the end. Apply for a Claxton FX card now and begin treating your money the smart way.