Expiring Carbon2Cobalt Coupon . Good luck!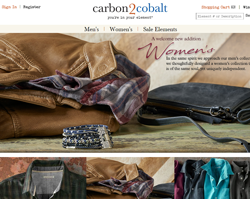 Visit carbon2cobalt.com
Carbon2Cobalt website view
Carbon2Cobalt is a men's apparel and accessories store based in California. They focus on providing clothes that are casual and comfortable, yet stylish. Inspired by the elements carbon and cobalt, they pride themselves in their attention to detail, offering unique design and style features that enhance their products. Choose from a wide selection of jackets, shirts, tees, sweaters, pants, and more. Be sure to check out their sale section for great offers. Want to browse offline? They offer free catalogues by mail. You can follow Carbon2Cobalt by registering with their email list.