Learn More About byojet.com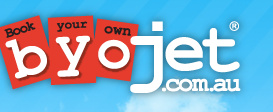 BYOjet is an Australian operated and owned travel agency that is independently operated and owned by the Jetescape Travel P/L which is a registered Queensland Travel agent. The agency has an experience of 19 years in the industry and it holds a firm belief regarding the fact that it is the only travel agency that offers the best of the fares and the best of the prices. To cater to the needs and the budget of the different people, BYOjet has partnered with a wide range of airlines that also includes several low cost carriers, travel services, hotels, cars and cruises and more currently available from within Australia. Courtesy the price guarantee policy, you can test the same with any equal playing field. If ever you find that there is any alternative travel agency that offers price lower than BYOjet, you can challenge the agency and it will be happy to match the price. Moreover, if ever the price is not better or equal to any direct airline price, you will be eligible for a $50 travel voucher from BYOjet. The agency works with a solo motto of keeping low prices all day and every day to ensure that the customers, irrespective of the stringent budget, can plan a travel with BYOjet. The BYOjet Hotel has over 2,20,000 hotels under its hood. So, when you book hotels via BYOjet, you not only get instant confirmation but also get the hotels at the cheapest rates of the industry. When you book with BYOjet, you actually have a Competitive Price Confidence. The live prices of the competitors too can be accessed on the real time basis as they are shown right next to the hotels listed on BYOjet.
BYOjet is a member of a range of travel organizations. This, according to it, is mandatory to ensure the reliability of the products as well as the services and further guarantee the protection of the customers who book via BYOjet. Some of the organizations associated with BYOjet include Travel Compensation Fund, IATA Australia (International Air Transport Association) and AFTA (Australian Federation Of Travel Agents). BYOjet has established a user-friendly online booking system that assures more control and power in your hand. At BYOjet, you can book online and save a huge sum of money with over 500 worldwide airlines including Australian Low Cost Carriers like Air Asia, Virgin Blue, Tiger Air as well as Jet Star. There are several international Low Cost Carriers such as Ryan Air, Southwest, Easy Jet, Spirit among several others. To travel via airlines from BYOjet, it is not mandatory that the booking has to originate in Australia itself. BYOjet also offers live on the cruise booking on a number of major cruise lines with complete information related to ship and deck plans. You can also complete the entire booking process including the price, cabin selection as well as immediate confirmation with BYOjet at your helm. The best thing about BYOjet is that it is a ticketless airline. So, all you need when travelling with BYOjet is presenting a photo ID card as well as the attached itinerary. Yes, with this particular travel agency, travelling will be fun like never before. Keeping pace with the fast evolving travel industry, BYOjet is continually developing as well as adding new travel partners.