Learn More About bulkofficesupply.com

Let's be honest, we take office supplies for granted wherever we are working. From stationary, to furniture, folders, binders, shelves, desks, file cabinets, and so much more, we think they are a given to us all. But procuring them can be no easy feat given the volume and money involved. Be it large corporations or small scale businesses, we all want the best and most affordable supplies out there. But remember, office supplies can be a significant percent of operating costs so the more we buy in bulk the more we save. Thankfully the simply titled Bulk Office Supply provides us with the most affordable online retailing to give your workspaces the relevant supplies in a reliable and easy way.
The founders of Bulk Office Supply have been office supply vendors since 1989. They have gained years of experience distributing office products, which has resulted in great pricing on over 20,000 items for their many clients. A cooperative effort between suppliers and Bulk Office Supply has allowed us to bring all supplies at very cheap and affordable rates to business owners. Rather than buying only one or two pieces of a given item, you now have the opportunity to buy at the industries tightest margins by simply increasing your order to a full case.
Buy office supplies and Breakroom supplies at below wholesale prices. Many items discounted at well over 50% off. Save even more when purchasing by the case or in bulk. Stationary, paper, storage boxes, printer toners, multimedia equipment, computers, digital storage, printers, scanners, cutlery, cleaning supplies, and so much more all available at Bulk Office Supply for ridiculous rates that saves you a ton of money.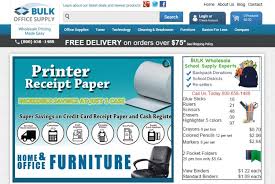 Just register a free account on the Bulk Office Supply website, see all our products and services based on type, brand, material, and price, place your order, and pay for it safely and securely through any major credit card. Newly registered users can avail our various exclusive deals and discounts for their first buy on our website and take advantage of our amazing wholesale pricing. Free Standard Shipping in orders over $75 as well as ship the same day. Express delivery services have varying rates depending on size and type of orders. For returns, generally both regular and bulk items can be returned within 30 days of order as long as they are unopened and unused non-perishable items. However the customer is responsible for the shipping of bulk orders back to Bulk Office Supply.
We also value our customers immensely and are always here to help in whatever way we can regarding our goods and services. Do not hesitate to contact us the moment you have an issue or a query, and we will happily facilitate you every time to ensure you are kept satisfied and happy with what we have. You won't get such a service anywhere else for the best price wholesale bulk official supplies for your workspaces. Benefit from 25+ years of experience, a lean distribution network, and our buying power which results in savings passed on to you.
For more information regarding our products, services, deals, offers, and much more, visit our official website.http://www.bulkofficesupply.com/