Expiring Bulk Nutrients Coupons . Good luck!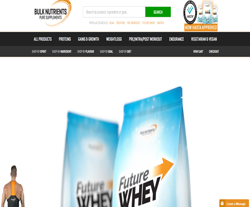 Visit bulknutrients.com.au
Related Categories
Bulk Nutrients Coupons website view
Bulk Nutrients is a supplement supply store based out of Tasmania, Australia. Bulk Nutrients imports supplements manufactured in the US to Australia for the retail market there. Bulk Nutrients maintains lower costs than other resellers in Australia by re-selling directly to customers. Bulk Nutrients also claims to only stock supplements that have been proven to be effective (touting Whey Concentrate, Whey Isolate, Creatine, and BCAA's as their most popular products). They claim to also use formulations that have as few unnecessary ingredients as possible, and boast very strict quality control regulations. From their site, you can browse their whole product line, including Amino Acids, Carbohydrates, Protein, Vitamins, and much more. They even sell apparel and accessories. They offer a $12 flat rate shipping on all domestic orders (via Australia express post). Need to compare supplements? Use their Protein Calculator to figure how which product is best for you.