Learn More About bronners.com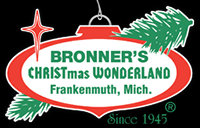 Christmas may be one day, but that doesn't mean you cannot celebrate it the other three-hundred sixty-four days of the year. From trinkets to ornaments to holiday stockings, Bronner's Christmas Wonderland offers all of the different items that a person needs to make a beautiful home décor. Bronner's Christmas Wonderland is located in Michigan, but ships to states throughout the US. The shop is becoming a staple in the Christmas world and is bringing joy to homes throughout the country in every season. Bronner's Christmas Wonderland is one of the largest Christmas-specific stores in the United States. Located in Frankenmuth Michigan, Bronner's has an Alpine and snowy feel woven throughout the landscaping and structures of their little corner of the town. They are set on an impressive nearly thirty acre grounds that are covered with decorations that shout the holiday spirit. There are large inflatable snowmen outside in all weather and in all seasons. They illuminate the large complex with—what else—Christmas lights all year round. Further, the land is dotted with gorgeous pine trees and evergreens that are quintessentially Christmas and the offerings inside the store are just as impressive and holiday-driven.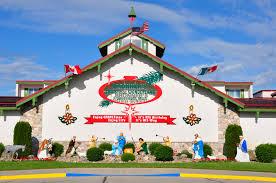 The Bronner's name has been in business for decades. Founder Wally Bronner developed the store in 1945 and started growing his presence in the community and in the Christmas world. Starting off with a minimum collection, the Bronner's of today has grown and grown in the number of different products that it offers. Today, there are thousands upon thousands of different holiday SKUs in the store that make it absolutely perfect for those that want to get a Christmas figurine or decorate their tree. The stock and supplies at Bronner's Christmas Wonderland is extensive. They have, for example, everything that a consumer needs to decorate their household Christmas tree. There are lights of different colors and the plain white option, too. There are large bulbs and small, all available to place on the tree to make it sparkling. They also have an amazing array of different ornaments. There are customized options in bulbs, too. These customized options can be made to fit the décor of a home or even exclaim the family's name. For those of faith, Bronner's Christmas Wonderland has many products as well. There are spiritual gifts and selections adorned with crosses and in the purples and golds of the holiday season. Further, there are great advent selections and calendars that will get children of all ages involved in the family festivities. These faith-based products highlight more than just the attachment to Christians that Christmas is. Rather, it speaks to the deep faith of the Bronner family. Many slogans utilizing the Bronner's name highlight the "Christ" in Christmas in order to associate the store with this greater message. It is also the reason why so many Christian organizations purchase their decorations from this store. Though not their only clientele, it is important to Bronner's Christmas Wonderland to share this message and ensure that their beliefs are incorporated into different ways in the site's messaging.