Learn More About brighton.com

Brighton is based in Los Angeles specializing in stylish women products and accessories. It was started as a detailed man's leather belts with high craftsmanship in mind. Later they evolved to become a woman's accessories line with a wide range of products. As a brand, Brighton was founded in 1991 by Jerry and Terri Kohl with belts as their flagship products. Currently, they have over 180 stores and over 4,000 specialty boutiques which accessorize women from head to toe. For years, they have helped women transform their looks and giving them the confidence and personality they deserve. The "Brighton Difference" is what defines their business and they take pride in their detailed workmanship from their in-house team of artisans. They use traditional processes that have been used for many centuries. Their timeless works of art are kept relevant to modern fashion and are specially hand crafted to give them the human finish ever. Visit Brighton website for the best of jewelry composed of anklets, box sets, bracelets, earrings, hair accessories, necklaces, watches and rings. You can check out their charms and sample beads, charm holders, ear disks, spacers and stopper beads among others. their wide range of handbags include cross bodies, backpacks, totes, wallets, hobos and organizers and all these come with their accessories and all these are hand made by their local and international specialists.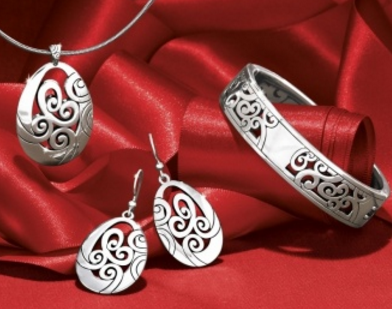 At Brighton, their passion is to create beautiful and yet durable high quality products that are inclusive. On the other hand, they treat their clients as partners making them feel special. You can contact their passionate customer care experts and they will discern you with their knowledge and prompt response to any query concerning their products and services; they are always ready to assist on issues related to charms, handbags, jewelry as well as home décor and gifts. Their contagious passion is what makes their customers come back for more. At Brighton, they help you customize your jewelry with their endless color possibilities concept. By becoming part of their website, they allow you to create your own ring, necklace or bracelet. Their rich range of videos will guide you to come up with a masterpiece. You do not have to be an expert designer; all you have to do is follow their simple guidelines and come up with an item of your desires. This helps in transforming your creative desire to an object that you can take pride in. Lastly, you can join Brighton on their social networks and start sharing your experience with other subscribers and fans for free. Their YouTube channel vibrancy depends on your input and subscribing to it helps you get the latest tips and events to make your lifestyle more fun and real. Like their Facebook and join the passionate conversation or just get the latest events, news, special offers and discounts directly to your newsfeed. Additionally, follow them on twitter and receive the latest additions in the ever growing catalogue or share your inspirational photo of charms, jewelry, handbags and other gifts on their Instagram or Pinterest pages.