Learn More About brainbench.com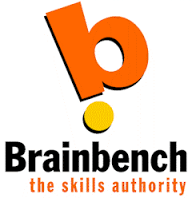 BrainBench is an independent certification authority which provides you with the service of measuring, improving, and promoting your skills through certifications.Established since 1998, the company today has 11 million active members who have advanced their skills and careers, and over 15,000 businesses have used the service to recruit and hire and train talented individuals suited to their needs. The service is versatile and can assess a variety of skills including IT, Finance, Health Care and Office Skills etc. To date, Brainbench has delivered over 30 million tests to over 11 million of their registered users and using rigorous test development process, they have developed one of the largest online test libraries in the world, totaling over 600 tests. You can acquire their corporate and business offerings through CEB's SHL Talent Measurement Solutions website. On the site you will find all of Brainbench's pre-hire and post-hire testing content including more than 600 skills, behavioral and job role assessments.
Brainbench today is considered as the leader in online certificationthis is hugely due to the facts that they have pioneered the field, developing career advancement tools for individuals since 1998. Their 600 challenging skills tests including dozens of development courses are available for freewhich today have over 10 million members. Wit them you can share your resume, certifications, test results, and career information on your account at the site, which lets employers compare your score with others.
Registering with Brainbench is easy and completely free, as a member you get access to all of their skills tests (including dozens for FREE) through which you can get certified. To measure your progress, you can set clear skills goals, and see how your skills measure up against your peers. You can upgrade your free membership to receive even more out of them including unlimited access to all of their assessments and resources.
Why Choose Brainbench?
With so many businesses now based on the model initially set by them many ask the question why still Brainbench?
The answer is pretty simple, with the experience theyhave amassed over the years, learning from their mistakes and experiments, they have perfected their approach into a service which is matched by none. With them your choice is huge and you can choose from over 600 tests of today's most demanded skills. They have a great reputation the markets as well where certification on your resume will make you stand out from the crowd by helping you show what you know. Your online transcript is a customizable online account through which you can share your resume, certifications, test results, third-party certifications, and other career information. Make sure others recognize your skills. Share them with your current employer, potential employers, friends, and family! List them on your resume or CV and all your social media channels. Simply share a link to your public transcript or provide your transcript ID and have them visit the Brainbench homepage.
The company over the years has developed healthy working relations with top players in the industry and today their certifications are used by 15,000 leading employers worldwide to support their daily hiring and promotion decisions. By partnering with Brainbench, members across the world have advanced their careers, finding better career opportunities, more interesting work, and are earning more.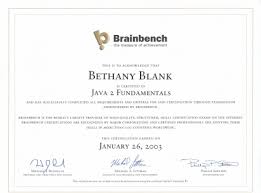 The best thing about them is their flexibility, you can take test on any if the fields anytime and at any location convenient to you needs. You can build and maintain your electronic transcript and share your certification results with employers and see where you stand.Their online site has been designed to be moth ergonomic and user friendly and with intuitive designs they have made processes very easy and simple to follow. You can subscribe to their paid plans using their online store which accepts payments through credit/debit cards of all types including: MasterCard, VISA, Discovery American Express and via using services such as PayPal and bank wire as well. There is a certain period for which you can claim a refund and cancellation of subscription and a full fee is refunded.
Brainbench has really raised the level when it comes to online certification and score management and with their excellent services, they have indeed raised the bar in the field. Visit our website for more details regarding our certifications, testing and other information.https://www.brainbench.com/