Learn More About biba.in

The ethnic never loses its importance no matter where a person lives and what age group he/she belongs to. The BIBA is one of the most adored ethnic fashion brands in India today. The BIBA Apparels Private Limited is an Indian fashion ethnic retail organization which stands true to its name. Since 1986, the BIBA has been dressing up demure maidens all across the country with its traditional and authentic Indian outfits. The BIBA believes in offering contemporary ethnic fashion apparels at reasonable prices to fashion lovers who love to dress their silhouettes in cotton fabricated ladies' churidars and dupatta sets, in an array of shades from dull to vibrant, and with unbeatable color combinations and prints. The trendy women could have the best possible combinations of apparels at the BIBA as they are offered with the choice of mix-and-match kurta pieces in different lengths and sizes. This creative and flexible facility offers the women a relishing experience of traditional Indian outfits irrespective of the body type. The word "BIBA" has been originated from a Punjabi endearment which is used for a young and pretty girl. It implies soft and polite qualities, which motivated the founder, Mrs. Meena Bindra, to use this word as a title for the clothing line for the Indian women. The company was incorporated in 1986 with a wide array of salwar, kameez, and dupattas for the traditional women. The company strongly believes in offering fashion at affordable prices since its conception and is true to its beliefs and policies even today. Sticking to its ideal principles, the brand has also introduced a new range of collections frequently in creative prints, fabulous fabrics, and latest styles. Today, the collection offered in mix-and-match range promotes contemporary sensibility, while the Indian salwar-kameez product line is quite ethnic. The range is highly defined by an Indian designed look, impact from hand-block prints, and the vegetable dyes. The brand is accustomed to using Indian handlooms with ethnic embroideries and creative techniques to produce the garments and keeps the clothing line patriotic. Women would also find an array of unstitched suits and a designer collection for all age groups from 2-to-12-year-old girls to a mature woman who could dress these up to her professional area of work or to a wedding.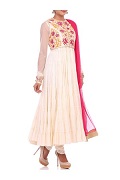 The BIBA also established itself into the Bollywood merchandising by offering its designer and rich ethnic costumes for the movie- Na Tum Jano Na Hum which was released in 2004. The collection was quite impressive and later, it was offered ten more projects which comprised of blockbusters like Devdas, Hulchul, Baghban and many more. The customers at the BIBA can always expect a truly distinctive and wow-inspiring traditional shopping experience, be it the product lines or the customer service. It has made the country still stick to its ethnic cultural heritage through its clothing line and has enhanced people's choice in terms of trend and fashion which they could afford easily. The collection was first launched in Mumbai in a small boutique at Kemp's corner which immediately gave rise to its gorgeous hand block prints and patterns. Later, Mr. Siddharth Bindra, the Managing Director of the BIBA made the brand recognizable at a pan India presence. currently, the company is controlling and managing more than 194 exclusive retail stores in 96 cities along with large format outlets at the Shopper's Stop, Lifestyle, Pantaloons, and Central. The company has been accoladed with many awards and rewards on a national scale, and allows people to trust it more for its credibility. The list of its awards and recognitions is endless and one can always read all of them at its website.