Expiring Bee Inspired Clothing Discount Codes . Good luck!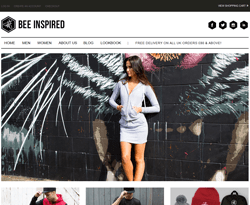 Visit beeinspiredclothing.com
Related Categories
Bee Inspired Clothing website view
Bee Inspired Clothing truly captures the flavours of street fashion at its best. It all began with two individuals Steven Robb and Mark Corcoran who after playing 15 years of professional football decided to do something different. As fashion was a common topic of conversation between young people in the locker room, they decided to try their hand, because they understood that sports and fashion go hand in hand. Eager to come up with a brand which was playful and at the same time creative, they decided to come up with a line of 4 tees which were sold off within days. As they designed more Tees, they started contacting people in the sports zone asking them to try out their brand. There are challenges, especially when they have to compete with big names, but they are bettering the brand every day. The quality of the products has improved drastically, and today Steve and Mark can proudly say that they have literally 'sweated it out' to establish their brand. From its launch in 2013, the brand has come a long way, and now they have a fully functional unit; but the simple concept has not changed!