Learn More About baginc.com

Bag.inc is a fashion accessory store, specializing in fashion hand bags and celebrity style bags. The store operates from from Paris with an office and warehouse in Hong Kong. Baginc is comprised of a team of energetic fashion aficionados with a passion for creativity and uniqueness. Their team members are well acquainted with fashion and the latest trends in industry.Originating in France, the brand shares country's inherently discerning eye for couture. They have an international following and receives orders from all over the world. Since 2004, they have been on the forefront of fashion, tracking trends, networking in the news. After much success with physical sales, they decided to bring these fashion bags directly to customers on the internet and have found success in it.
The brand specializes in affordable, high-quality fashion handbags that have no hidden costs, they don't charge sales tax and we provide free worldwide shipping to all orders over $100. They have been in the bags business for a while and understands that the customers are poised with a number of options when it comes to celebrity style handbags. According to them, they are very grateful to the customer for shopping with them and for exchange they are ready to provide any service to customer to keep them happy. they are just as passionate about trendy handbags as their customers and they believe in the fact that you don't have to spend a lot of money to get something trendy and hence offers their products at a very worthy price point. Most of their fashion bags, totes and wallets are under $100 and don't sacrifice the detail or quality of higher-priced celebrity handbags.They also provide a money-back guarantee for any customers who are unsatisfied with their purchase.
The company can legally ship to all countries sin the world and in good spirit they do it for free, that's right completely free of nay cost which comes as a great perk when shopping with them. Furthermore, they are so confident in our product and shipping process that if your order ever gets lost in the mail, we will replace it at no cost to you.
· For orders that are greater than or equal to $100 USD, standard shipping is free, regardless of global destination.
· For orders less than USD 100, Standard shipping costs a flat rate of $9.95 USD and is made using EMS.
· On average, standard shipments arrive within 6 to 7 business days after order has been placed.
· Gift wrapping is free of charge!
Expedited Shipping
· 2-day Expedited shipping is available on all orders, regardless of the order's total and destination.
· Expedited shipping costs $20 USD.
· DHL is used as the Expedited shipping carrier.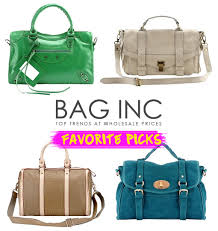 The stores accept returns in case the item is defective or if the customer is not satisfied with it, returns are handled in form of refunds or exchanges depending on the situation. To claim a return, it is essential to make sure products are unused and undamaged condition and that the sales receipt is sent along with the packaging. The store does not accept returns made after 15 days of purchase.
Bag.inc has a fully functional website built on elements depicting their love for the fashion. The website allows you to browse their extensive offerings from the ease of your home. customers can check the detailed description of products along with price on the website before ordering the product online. The process of ordering from website is quite simple one can even make the payment online. Users can ask questions from staff, give feedback and suggestion and enter a complaint about any product or service on the website. The store is indeed one of the best e-commerce site on the internet and defiantly the place to shop at. For more information, visithttp://www.baginc.com