Learn More About babbel.com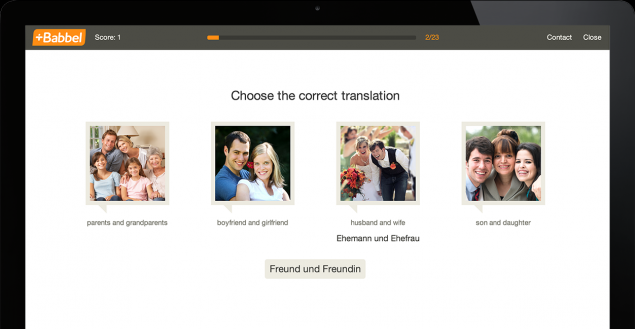 This is a website that provides an online platform where people can learn new languages. It was founded in 2007 by Markus Witte, Lorenz Heine and Thomas Holl. They had all worked in the music industry and initially wanted to come up with a music –related website. The idea changed when they noticed that there was a shortage in online language learning facilities. The first web app they developed was launched in 2008. Babbel rose at high speed and a year after making the first web app, their users were already more than 100,000. Their offices are located in Berlin and New York.Forget the use of boring CDs and DVDs for learning new languages. An online forum is now here to help you diversify in linguistics. Babble.com offers 14 languages for users to learn from the comfort of their homes and at their own convenience. These include the commonly used official languages in the word such as English, Spanish, Italian, German, Portuguese, Swedish, Norwegian and even Indonesian. In today's world, you never know when you are landing next. Wherever you go, communication will be needed and you can easily achieve effective communication in many parts of the world by registering with Babbel.com. The wide range of Languages offered will help you stay comfortable in any continent of the world. Babbel.com is a site that aims to unite the world. Unlike many other sites, you can read the contents in many different languages apart from English. This is accommodative to many different people. If you have gone through the learning process, then you can test yourself by trying to read the website in the language you are learning. Babbel apps are the best online language learning tools because they can be used even on mobile phones. Therefore, you can move anywhere and keep updating your vocabulary. Take a few minutes off work and learn some new sentence structures. The apps are compatible with many models and operating systems including Apple.
If you are undertaking the leaning of a language on Babbel, you will master the language fully thanks to the provisions on the site. There is a speech recognition tool to help you learn and practice your pronunciation of different words. There are also examples of sentences and thousands of vocabulary to help you speak a language effectively. There is a review manager that helps you to get through the areas that are tough. For some languages such as Spanish, you get to know not only the vocabulary but also the traditions and culture of the Spanish-speaking people. There are different levels of learning. If you are a beginner then go the beginners' section. In case you had initially tried learning a language and you are a notch higher, then the intermediate level best suits you. Because languages are complex, you may want to go an extra mile and learn about the idioms and special phrases. These can all be learnt through Babbel.com. The best self-directed learning now comes to you and it is your chance to register. There are job opportunities on Babbel.com. For the linguists and even technical operators, there are various career opportunities available, and you also get a chance to join a great team. What about the prices? Babbel offers learning of languages at fair prices. The charges depend on the duration of learning which ranges from 1 month to 12 years. The one month package costs $12.95 whereas the 12 month package is charged $6.95 a month. As you can see, there are no limitations to learn a language by a budget. The three month course is charged $8.95 per month and there is also a 6 month course that you pay $7.45 per month. Payments can be made using credit cards. Your credit card information is kept safe and secure because it is transmitted via an SSL-encrypted connection.