Learn More About armorconcepts.com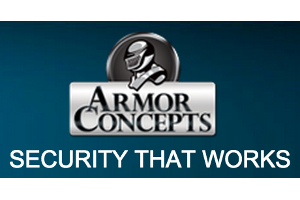 How safe are you and your family in your home or your apartment? With growing cases of break-ins these days, it's astonishing how people leave the safety of their loved ones and themselves on a single piece of wood, door. Didn't see it that way right? Well, it's not too late to make your home safer. Choose the best home security option to ensure a complete safety of you and your family with Armor Concepts. What makes Armor Concepts different than others? Let's start with the lifetime warranty on their Door Armor. Armor Concepts have made sure that their products are fully tested against failure, and hence, provide a full lifetime warranty. Even the police and other independent sources confirm the authenticity of complete safety offered by Armor Concepts. That's the reason why more than 100,000 home owners, contractors and apartment owners all around US and Canada have made their home more secure with Armor Concepts. No matter what type of door it is, a simple panel type to sliding type, Armor Concepts have developed a complete security system, door combo set of different colors, known as Door Armor. Available in three different colors, White, Aged Bronze and Satin Nickel, Door Armor is available for all door types in two different combo sets, Max and Mini. The max kit comes with 1 Door Armor Jamb Shield, 2 Mini Door Shields and 2 Hinge Shields. If you want to try out just one of them, Armor Concepts also provides the ease of ordering a single type of shield. All this, with a lifetime warranty as mentioned before.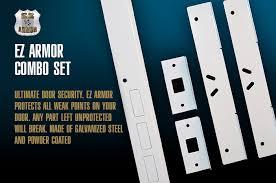 You can order any of the above mentioned by signing up on Armor Concepts' website, and get it delivered directly to your home. And don't worry about the installation part too. Based upon your level of installation skills, there are all sorts of installation videos available on Armor Concepts' website which show detailed and elaborated videos not only on installing the Door Armor, but also on fixing it. If you prefer shopping from store than online shopping, you may also a Armor Concepts store nearby you on the Store locator on their website. For those who are interested in knowing more about door security, Armor Concepts provides a lot of stuff, from news videos to door measurement guide, so that you are well aware with how door system works and how you can optimize the system for better security. They also provide a complete section on preventing break-ins, with articles on how you can keep yourself safe from burglary and just in case, if there is a break-in, what to do after that. With all this info and guides, you not only ensure the most effective way of using Door Armor and various Shields by Armor Concepts, but also develop you own new ways of making your home more safe from break-ins. For latest news on house break-ins to keep yourself alarmed from burglary, so that this doesn't happen with you, make sure you like Armor Concepts on Facebook and follow them on Twitter and Google+. Subscribe to their Youtube Channel for more videos on home safety and installation videos. And remember, safety of your house is your biggest responsibility. Never compromise with the safety of your family, because they matter the most to you than anything else in the world.