Learn More About anthem-sports.com
Anthem sports is a leading company in supplying sports products and equipment. It has gymnasium, training products and field equipment for athletes. It is a national distributor in selling sports good and equipment. It is a family owned business and their office and warehouse are situated in Pawcatuck, CT. The president and the founder of anthem sport is MARK FERRARA who was a football player. By following his passion for sports he started his Anthem Sports in 2002. By the following years, they expanded their production and reached a new level of selling good sports product in the market. They sell their goods by providing a catalog, website and in house – sales and customer service representatives. They ensure the customers about providing services with precision and due to this they almost have over 100,000 customers who are satisfied with their services. They have an expert and experienced staff that help customers in providing proper guidance in purchasing goods according to their requirements.

More than half of the coaches,athleticdirectors and players choose Anthem Sports for their sports equipment needs. Their good customer service and endorsed lowest prices will keep customers coming back. Satisfaction is all needed. They are specialized in products like goal anchors, soccer training aids, Kwik Goal Wilson Soccer balls, brine championship soccer ball, Football field creation and training equipment, Spalding basketballs, Basketball sideline chairs, Basketball training aids, outdoor basketball units, portable basketball units possession arrows, basketball floor cleaning products, Volleyball net systems, volleyball training aids, Molten volleyballs, tennis posts, tennis tutors, wind screens, tennis nets and more. They conduct a warehouse sale in which they provide sale on closeouts and overstock items up to 50%.They also have team sales or a league sale. To achieve this they have provided 3 steps: Add item to MY QUOTE. View your quote by clicking MY QUOTE on the top. Place your order and get a team discount on orders over $250. This is all the customers need to do.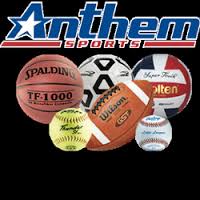 As they have a great collection of various sports equipment, they also include different things related to the specific sport like basketball. It includes products from, Wilson, basketball racks, Rawlings and Baden, Spalding, basketball training equipment, backboards and rims and all the basketball coaching supplies that customers are looking for a particular season. They have different brands like Wilson, Baden, Bison, Champion, Fox 40, Dalco, Easton, Silver Back, Markwort, Nevco and much more.They have the large collection of apparels too. Their price ranges from a product to product. For example the apparels lies from $5.99 to $11.00 and above. Anthem Sports has proved to be the most trusted brand since its inception and never broke the trust of customers. They have always at their edge to maintain their goodwill all through. The brand has become a famous name in all sports due to the immense trust factor it brings with it. There are several unique characteristics that are related to brand and those make their services extremely special and dependable for their customer pool.