Staff Picks to help you save even more at AAPC
Expiring AAPC Promo codes . Good luck!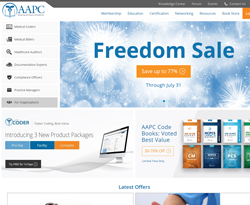 Visit aapc.com
Related Categories
AAPC website view
AAPC was founded in 1988 and designed to provide education and professional certification to physician-based medical coders. They also include training and credentials in documentation and coding audits, regulatory compliance, and physician practice management. AAPC currently has over 139,000 member worldwide, with over 96,000 certified members. You can find the entire business side of provider care with AAAP certifications, including physician coding (CPC), hospital outpatient facilities (CPC-H), payer perspective coding (CPC-P), interventional radiology cardiovascular coding (CIRCC), medical auditing (CPMA), medical compliance (CPCO) and practice management (CPPM). Each certification provides the test taker with hands on working knowledge, so that claims can be supported, along with faster reimbursements, fewer denials and more smoothly run medical practices. AAPC also offers pre and post certification needs including Continuing Education Credits (CEU) requirements. To find out more information about AAPC, visit their website at www. aapc.com.