Learn More About rushcard.com
RushCard is a new type of card by Visa which provides you more benefits than a normal deb card without any high additional costs. Using RushCard is quite safer than using cash as there are many security measures taken by Visa. It offers you fraud detection as well as it is completely safe to use online. This is in compliance with the Visa zero liability policy which is an additional benefit. The card is extremely beneficial for all those who want to gain control of their finances. You can use the card to pay bills, move money, create financial goals. In case you need any kind of help with the card, the customer service team is available for you 24x7.

There are numerous benefits associated with RushCard and once you get used to it, you won't like to use an alternative. Through RushCard you can get your paycheck up to 2 days faster because it will be done through Direct Deposit. You can use your RushCard anywhere Visa Debit cards are accepted. Almost all the merchants provide you an option to use your Visa Debit cards so you can use it at almost all the shops and merchants throughout the world. With the help of RushCard, you can easily deposit checks from your phone itself. Also, you can load cash at around thousands of retail locations. All these can be done only through RushCard. The card also offers you the ability to withdraw cash at more than 24,000 MoneyPass ATMs nationwide without having to bear any extra cost at all. What is even better is if you set your PIN and load money onto it, you will get your one time card fee refunded as well. So basically, the card will be provided to you completely free of cost. You can apply for a RushCard with no credit checks and minimum balance in your account, the benefits can't get any better than this.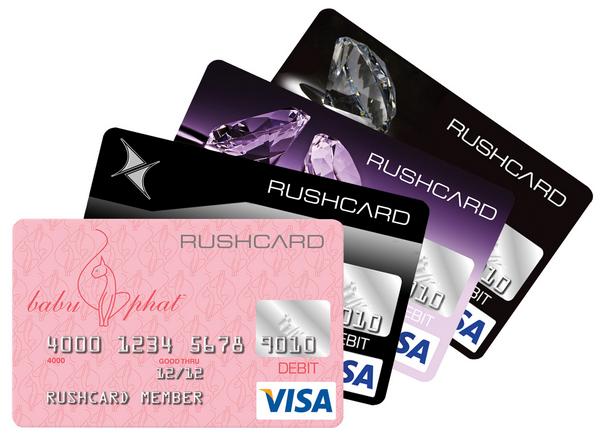 You will find more than 7 different types of RushCards with different designs and build. They all have varied card fees and you can choose either of them to get started. There are two different plans which you can choose for your RushCard. If you are someone who would need unlimited transactions, the Rush unlimited plan is made for you. With this plan, you can make unlimited signature and PIN transactions. There would be a $7.95 monthly fee without any Direct Deposit. If you choose Direct Deposit, the monthly fee for the unlimited plan is $5.95. Another plan that is perfectly suitable for occasional users is the pay as you go plan. There is just a nominal $1 fee on every purchase that you do. You can only take it up to $10 maximum for every month. There are no monthly fees involved in the pay as you go plan. Just like any other card, you will receive text alerts for every transaction that will be done through your RushCard. This is an important security measure for RushCard.
rushcard.com Social Media
On the official blog of the RushCard, you can find a variety of essential posts that will help you better manage your finances and money. For those, who are seeking for ways to improve their money management skills must check out this blog as the quality of posts found here is incredibly informational. Do follow RushCard on the blog to never miss out on these important updates.
Like the Facebook page of RushCard to browse through the interesting variety of posts shared by the team of the RushCard. You can also interact with RushCard's team via Facebook.
On the Instagram account of the RushCard you can find several pictorial updates. These updates give you certain necessary information about how to use this helpful card. For all the users of the RushCard and for those who wish to bring RushCard in their lives, this Instagram page has some helpful updates for you. Do follow to never miss out on these updates.
On the Twitter account of the RushCard you can find a number of tweets and posts relating to this incredible debit card. Every RushCard user must browse through this page to never miss out on any essential update about the card. Do follow RushCard on Twitter to never miss out on the important updates from RushCard.
On the YouTube channel of the RushCard a number of how to video tutorials can be found. For anyone who has been using RushCard, these videos may seem really helpful. Do subscribe to the channel to never miss out on the important updates.