Learn More About riverisland.com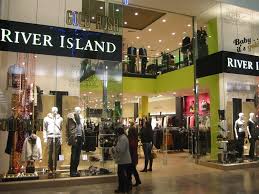 River Island is one of the most well known brand on high streets and boastsover 60 years of fashion retailing experience. The brand is known for their stylish yet affordable clothing and the unique touches they bring to our collections helps them standout from the rest of the High Street. Their customers can always rely on them for outdoor apparel, occasional wear, amazing denim and fabulous bags and shoes. They pride themselves on being the perfect store to pick up everything a person needs need for a brand new head-to-toe look. River Island has always aimed to bring new and original fashion to their customers, they incorporate greats design with everything they create. Almost all of their products are designed in-house, their design team as is one of the largest on the High Street. The brand can deliver fabulous new fashion in-store and online for a person every single week and for that has become the number one choice for many.
River Island primarilysells on their physical outlets, with over 350 stores across the UK, Ireland and internationally throughout Asia, the Middle East and Europe, as well as online on their six dedicated web stores operating in four currencies. They operate with a global supply chain network, sourcing and manufacture products throughout the world. Their supply chain partners are important to them and they have built a strong, long term and ethically responsible manufacturing relationships with them to ensure their continued success.
The store delivers to almost all countries in the world except a few with local restrictions on imported items. It takes them 5-10 days to deliver worldwide,estimated delivery times all exclude weekends and Bank Holidays. They confirm the expected delivery date at the checkout when the customer places their order and this information is included in the order confirmation email as well.Express delivery is unavailable to the following locations and standard deliveries make take up to two working days longer:
· The Scottish Highlands & Islands
· The Isle of Wight
· The Isle of Man
· Northern Ireland
The store's return policy is a little strict and all for the right reason. Keeping in mind health and hygiene, they refuse tooffer refunds on food, grooming products, pierced jewellery and underwear. In addition, swimwear cannot be returned if the hygiene strip has been removed. On the other hand, when returning gifts, cosmetics and electrical goods the stores requires all original packaging along with purchase receipt. The costs to ship back and forth also falls on the customer who opted for the refund/exchange. It can take up to 28 days for a return to be processed once they received the customer's parcel.
The store's pricing may be on the premium side but they feature regular discounts and promotional offers for their customer including theRiver IslandGift.The River Island Gift Card is available online and in store (with the exception of Selfridges, Jersey, Belgium and The Netherlands). Gift cards cannot currently be spent online but can be spent in most stores. The store may be the perfect place to shop for both fashion and budget conscious people.
Visit us at:www.riverisland
riverisland.com Social Media
Facebook is a great way to interact globally. With a huge portion of the worldwide population on the site, they have representations from all fields and segments of the society. The River Island has used the site to market their products, schemes and offerings and their page is a great way to stay updated with the latest from them.
Instagram is a great way to connect with your favorite celebs and companies and The River Island constantly updates their profile you can stay alerted and updated of their latest offerings. Follow their profile for the latest from them.
Follow The River Island on Twitter and keep up with the latest from them Learn more about the products and get a chance to interact with the company. You can also engage in healthy discussions and interact with people that have already used their product. Hashtags have proved to be a great marketing tool, often creating legacies and ground breaking marketing reach if gone viral.
YouTube is a dream come true for Vloggers, who with the site have gotten reach to billions of people across the globe. A video made right can reach terrific audiences and get terrific views making the site a great place to market and reach put to people. The Rive Island has used the site to reach out to their potential customers, highlighting their biggest offerings and best products.