Learn More About mitchellandness.com

Mitchell and Ness is a company that has its roots firmly planted in the past, while providing products that are updated and modern for today's buyer. Mitchell and Ness was founded in 1904 in Philadelphia. The oldest sporting goods company in the country, it was in this year that Mitchell and Ness first opened their store in the city where liberty rings. Frank P. Mitchell was the founder and he, himself, had a storied sport's past. Two sports stars started the company as a way to provide uniforms and other team-related items to members in their own community. Frank P. Mitchell, one of the founders, was a recognized wrestling champion and was also a member of an AAU tennis team. Charles M. Ness, the other co-founder, was a tennis star and had his own love of sports. Coupled with their ability to create quality goods and an understanding of sports, these two leaders would create a company that has lasted for over a century. Major League Baseball took notice of the quality of the uniforms that Mitchell and Ness produced and ordered them for their teams in the 1940s. This boost in notoriety and the celebrity that came with it helped to propel Mitchell and Ness to the next level. Suddenly, staying only local became a thing of the past as they now included major league sportswear provider to the company resume. Mitchell and Ness decided, however, that uniforms were not all that they wanted to offer. In the 1970s, they went retail and focused their efforts on providing individuals throughout a broader fan base the option of getting great team items. They offer college wardrobes, great sporting outfits for NFL fans, and of course, offer MLB fan wear as well. All of the items remain quality made and can be worn for all of those awesome sporting events.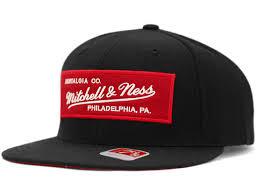 With competitive pricing and popularity, Mitchell and Ness's retail operation is impressive. Not only do they offer amazing selections through their storefront locations and partnership, but through their state of the art website as well. Anywhere that a fan who wants to purchase is, so, too, will Mitchell and Ness be. All they have to do is click on the website to learn more! To help ensure that customers get exactly what they need, Mitchell and Ness has offered numerous different avenues to get in contact with the brand. There are, of course, phone and email correspondence that is assured to get a response in a quick turnaround. But, the site also staffs live chat support during many operating hours all through their fabulous website. This live chat provides answers to Mitchell and Ness buyers in real time and lets them know the answers to their questions without having to wait. Moreover, by no matter what means that a customer reaches out with questions, Mitchell and Ness will get them the answers that they need and deserve with clarity and respect. Whether it is a problem or a comment, the team is ready to tackle any issue by giving the best and most quality of care. It is for this reason that Mitchell and Ness has such a reputation of strength throughout their customer base.
mitchellandness.com Social Media
For sports fans, the Mitchell and Ness Facebook page is all about sharing information. Yes, they will provide product placements and promotions on their Facebook page. But, this site is as much about sharing what is awesome about sports through facts and special images as they are about promoting their own brand. Click the link to learn more!
Seeing your favorite sports items before you buy is a great way to assess what is perfect for your wardrobe. See it all on the Mitchell and Ness Instagram page. From pictures of special sports moments to new product releases, the Mitchell and Ness Instagram page has it all. Learn more by clicking above.
Pinterest boards aren't just for ladies! Sports fans of both genders and all ages will love pinning their favorite sports items through the Mitchell and Ness Pinterest Page. There are great product placements and team-specific boards all on this site. Start pinning away with Mitchell and Ness.
If Instagram isn't your thing, check out the awesome images and videos on the Mitchell and Ness Tumblr page. Here, sports fans from around the world can come together to see what their favorite sports company has to offer and all of the latest promotions. Click the link and start checking out Tumblr to learn more.
From sports updates to images, the Mitchell and Ness Twitter page is an active site with lots to offer in the way of information and sporting knowledge. Click the link and start tweeting with other sports fans! Your next best wardrobe addition is just a click away.