Learn More About jtv.com
We all like nice and shiny things, especially jewels and gems, as gifts, collectibles, personal decorations, and other concerns. But since nice and shiny things don't come cheap, many are deprived of the joys of owning and doing business with fine jewellery and gemstones. Jewelry TV promises to change all that by giving you not only a 24-hour broadcast on all the finest collections and gems available for sale, but also an e-commerce website that you can browse and buy from. JTV's offerings include fine jewellery, loose gemstones, watches, castings, jewellery-making tools and related instructional materials, collectibles and gemstone-based skin care.
Jewelry Television started in 1993 as America's Collectibles Network and has grown into one of the leading retailers of fine jewellery in the United States. Originally, it offered collectible items such as coins, knives, quilts and skin care products but after a decade of successful broadcast and online sales, the channel renamed itself Jewelry TV in 2004. Since then, JTV decided to focus the business on what they do best—offering fine jewellery, gemstones and gemstone-related products at reasonable prices. As the largest retailer of loose gemstones in the world, JTV recognizes its mission is to open the world of fine jewellery and gemstones to everyone, every day.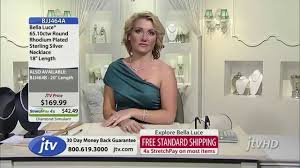 Jewelry Television offers both HDTV (1080i) and SDTV (480i) formatting for its broadcasts. It can be viewed on major cable services, satellite (DirecTV and Dish Network), and IPTV (AT&T U-verse and Verizon FiOS). Check your local cable operator or satellite distributor to see how you can access and start watching JTV in your own home on TV or even your smartphone. You can also live stream JTV from their own website to see all the shows and programs on it. See our amazing hosts introduce all kinds of new jewels and gems available to buy for yourself and others at very convenient and affordable prices. All our hosts have amazing, readable profiles on the JTV website if you want to learn more about them. You can place an order on the phone or buy from the website.
JTV remains committed to offering the best selection of fine jewellery and gemstones at fair prices as the largest retailer of such precious items in the world. JTV also has an extensive Learning Library, glossary, and gemopedia online that users can use to not only learn about the various forms of jewellery and gems, but also improve their own jewellery making and enhancing skills.We also value our customers immensely and are always here to help in whatever way we can regarding our goods and services. Do not hesitate to contact us the moment you have an issue or a query, and we will happily facilitate you every time to ensure you are kept satisfied and happy with what we have. You won't get such a service anywhere else
Join the JTV family of customers and find out why millions of viewers trust them for all of their jewellery and gemstone purchases!
jtv.com Social Media
With over 600,000 likes and steadily growing, JTV is making waves online. Just like, comment, and share our posts to let your friends and family know what we are all about so that they too can take benefit from our wonderful products, offers, and services. Any queries or comments you may have, please inbox us and we always respond on our Facebook to ensure everyone is left satisfied and content with our customer service.
JTV is also present on Google+ and you can also use it to get in touch with us and send any queries, comments, and feedback so we can better serve your needs. We always announce our latest products and goods there so Google+ is the place to be.
Like and share our posts with the world to spread the love. Leave us a comment to let us know if you are interested or tag us to see you putting our goods to full stylish use for yourself. No better way than Instagram, my friends!
View our complete collection and deals on jewels and gems on the JTV Pinterest page for you to browse, share, rate, and purchase! Follow our pins and keep in touch with us.
Get our live news and updates by following us on Twitter. You can always let the world know by re-tweeting us and get feedback by replying to tweeting to us regarding any issues related to our products and services. We always respond at the very earliest to avoid any inconvenience.
Subscribe to our YouTube channel to get the latest of JTV. Like and Share our videos to let your friends, family, and the world know of our full collection catered to all. There is no better way of demonstrating how our stuff works and what results can be expected when put to good use.