Learn More About extensis.com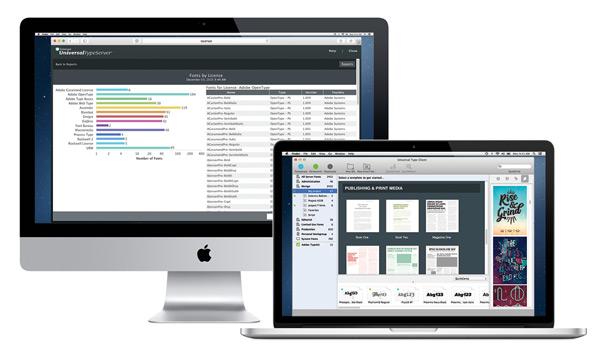 Creativity is all about not being afraid to fail. And what better way to apply creativity in your work than use a ton of fonts in it? But then, fonts aren't that easy to manage, are they? From choosing the most creative fonts to organizing, synchronizing and distributing them, fonts are a tough thing to handle. Are you someone who prefers organized work? Would you like to see you fonts organized and arranged in a very suitable manner? How about a font manager specially designed to handle all the work related to fonts in one place? Yes, that is indeed possible. Check out Extensis, a complete hub for different types of font management programs and much more. At Extensis, you will find perfect solutions to the problems you face while working with fonts. Starting with the first solution; Suitcase Fusion 6, the most advanced program specifically designed for font management. It lets you store all your font collection on a single, searchable location with options to categorize them according to your preferences. Suitcase Fusion automatically stores your collection to cloud storage so that you don't have to confine your collection in a single machine. Compatible with OS X El Capitan and Windows 10, Suitcase Fusion is available with a free trial on the Extensis Website. Go check it out now. If you are looking for a font management for your organization, however, there is another specific program available for you, Universal Type Server by Extensis, which is designed exclusively for font management solutions in workplaces. Easy to administer, Universal Type Server lets you upload all the fonts on a common server which helps you distribute font to different clients attached to that server.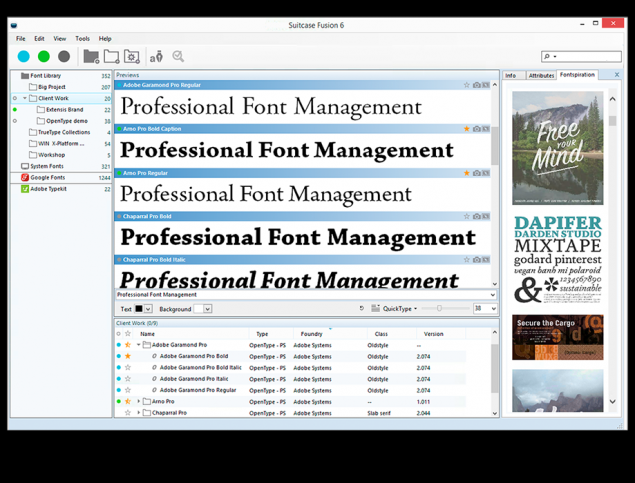 Sometimes it gets too much complicated to make some fonts available on your office suite, right? Well, not anymore. With Suitcase Attache, you can connect all your font connection to Microsoft Word and PowerPoint. Show your creativity by adding new fonts to your work by Suitcase Attache, which also offers you switch fonts quickly with the visual menu. Avail a free trail of 7 days from Extensis website now. Even after then, if some of the fonts start to act funny and need repairing, there is doctor for that too! Yes. Extensis provides a doctor specifically helping you in repair corrupt and damaged fonts and bring them back to life. Take a free trial of the Extensis FontDoctor from the website, or get is absolutely free from your purchase of Suitcase Fusion from Extensis.Extensis specializes in font management, but there are some other things to check out too. Check out Portfolio by Extensis, a digital assest management system that lets you easily organize and distribute your files anywhere. To know more, check out Extensis website which is available in multiple languages, so that you stay clear with the working of Extensis programs in details. Make your work look more beautiful and creative by trying out some new fonts and let Extenis take care of managing it.
extensis.com Social Media
Connect with the best font management system in the world by hitting the like button on the official page of Extensis on Facebook.
Check out all the Youtube videos and posts by Extensis by following Extensis on Google+, and keep enjoying adding new fonts to your work without worrying about their management, because Extensis is there to take care of it.
Exciting fonts do make your work look more awesome, don't they? Check out a collection of exciting fonts by Extensis by following Extensis on Instagram, and choose only Extensis for your font management!
Check out an exciting collection of photos by following Extensis on Pinterest. Make your creativity grow by adding more fonts to your work and let Extensis take care of managing all your fonts.
Tweet, Tweet! Follow Extensis on Twitter now to get all the latest updates on Extensis through your Twitter profile. Connect to Extensis team by Tweeting with @extensis.
To know more about how Extensis works, subscribe to the official channel of Extensis on Youtube and check out the videos of software by Extensis, to know how they work. Avail a free trial of your desired software now through the official website of Extensis.