Learn More About destinationxl.com

Finding the right pair of clothes for men can be tedious. What is even more complicated is to find the right size for them. If you like a pair of clothes, it may become difficult to find the perfect size that is ideal for your body shape. Many a times it so happens, that the sizes are limited to small, medium and large. Even if you happen to find an extra-large, it is not usually available in all clothing items for men. To overcome the hassle, Destination XL or DXL is a unique store that brings you the largest collection in men's clothing and shoes all in XL size. You need not look any further for the best and the latest clothing options. DXL brings you an extensive collection in every category of clothing that is stylish and belongs to a premium brand. The company has private labels as well as high-end premium designers for you to pick from. There is a wide choice for sizes and thousands of options in them. You can scout through different patterns, colors and designs in various size options. You can find the best designers clothing at this one place. The company has sizes starting from XL to 7XL and shoe sizes from 10-16. DXL carries designer clothing for your size from brands like Lacoste, Michael Kors, Reebok, Brooks Brothers and True Religion. This means DXL is the only place where you will find clothing in your size from the best brands.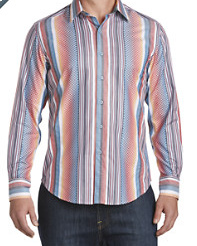 In the clothing range for men, there are polos, shirts, t-shirts, pants, jeans, custom dress shirts, active wear, team wear, coats and jackets, work wear, sleep wear, lounge wear, under wear and sportswear. The sizes are available from XL to 8 XL and LT, XLT to 5XLT. You can choose your size from hundreds of products available.The featured brands include Polo Sport, Nautica, Reebok, Adidas, Timberland, Tommy Hilfiger, Dunham, Fossil and many more. The company ensures that the collection is constantly being updated with the latest additions in terms of fashion, perfection and style. The footwear collection provides boots, athletic footwear, casual wear, sandals, slippers and comfort wear for the men to complete their look. The shoe sizes are available from 10 to 18, so that you don't leave this online store without getting the required size. There are suede and leather shoes that are ideal for work wear as well as casual wear. The company has stylish oxfords and loafers that look elegant and are comfortable to wear. They provide an entire range in designer collection that can give you a complete look from head to toe. The clothing and shoes are smartly matched to provide you with a classy and elegant look. You can choose from the latest 'head to toe looks' for work wear or casual wear and take your pick. They also have clearance offers that enable you to make your purchase at a reduced rate. You can either choose separate pieces of clothing or take your pick from the everyday specials that offer you pack of two at a reduced rate. Thus, you can purchase packs of two tees, or two shirts and the combo will have a rate lower than a single product. Make the most of your shopping experience with DXL and find the best quality and products from high-end designers.
destinationxl.com Social Media
Read the informative and creative blog of Destination XL that is written by knowledgeable and creative writers who aim to provide you with the latest information about fashion and different trends on the runway. The blog is regularly updated to provide its readers with ideas and styling tips from experts.
Connect with Official DXL page on Facebook and take a look at the stylish clothing made available by the company. The company provides information about different looks as well as about the different designers. Stay updated with the latest in fashion, and choose your look from the stylish range of clothing.
Follow Destination XL on Instagram and have a look at the images posted by the company that display their stylish collection and give you an insight into the latest in the fashion industry. You can also take styling and dressing tips from the images and plan your purchase accordingly. The company provides information about the variety of products and the brands through its images.
Follow DestinationXL on Twitter and read about the company through the latest tweets. Learn about the discounts on various products and specific brands when you make your purchase. Also read about the company's plans and its stores that provide you with huge variety of clothing options.
Subscribe to the YouTube channel of Destination XL and take a look at the videos and commercials of the company that showcase the premium and elegant collection available at the company stores as well as online.